Under the term "binding" specific production processes which are aimed at the crea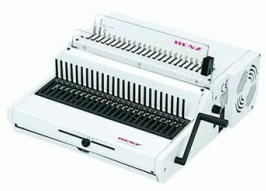 tion of such products as books, brochures, catalogs, and other multi-page documents are hidden. Binding is the final stage of the work associated with the bond between pages and the cover. All brochure ware work can be divided according to the method of binding the pages:- perforation of sheets of a document for later insertion in ring gear folder
- Perfect seamless bond of pages, when using a special glue block page of block and cover are glued together.
Stitching metal clip.
- Sewing block with the thread followed by manufacturing, the so-called hard covers.
- Binding documents with plastic spring.
- Binding documents on a metal spring.
Modern materials and equipment in order to produce brochures and books, magazines and catalogs as a budget class - for example, by using all kinds of springs, metal and plastic, which are of different diameters and colors, and exclusive printing in hardcover. Our printing house is equipped with all the necessary equipment to perform any of the methods of binding quickly and efficiently.