Production of books is one of the most serious work with which faces any printing house. Because, success of sales of the book depends on its quality. Books have strictly defined standards of printing. And you can express your fant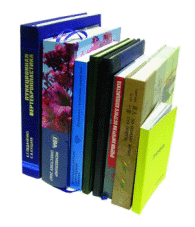 asy only in the cover design. This is where modern printing technologies allow roaming the intent of the designer! Soft cover from a design types of cardboard, hard cover with matte lamination and foil stamping. All this will make your book presentable and serve to highlight the publication on a bookstore shelf.
Of course, if you are an author who wants to publish his work in a small run, it will be difficult for you to decide in what format to publish your book. How to prepare it properly for printing, which method of bonding to choose, and perhaps there will be problems with the cover design. Applying to us, you pass all of these problems on the shoulders of our professionals who will optimize your costs for the publication, and turn the book into a masterpiece of printing art! We can manufacture as a simple book with perfect binding pages and exclusive options with super - covers and spine 7BTS.