The office printing house "FS Print"

[location map]

+7 (495) 504-60-26, +7 495 308‑36-43, +7 (495) 221-29-36 +7 (495) 955-91-52


+7(800) 505-85-32

Moscow, ul.Podolskih kursantov, 3
The underground Kievskaya, Bryanskaya Street 5
Working hours:
Monday- Sunday: 8:30 - 23:00
Champagne with logo. Design of labels for champagne, production of champagne with a logo.
Champagne is a traditional New Year souvenir. If you think that gifted bottle of this fizzy drink will lea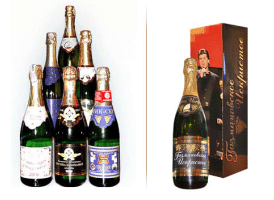 ve a good impression about your company, you are wrong. Champagne will be consumed and immediately forget, and much worse, if it will be re-given to someone. To make your gift to serve on your image and image of your company, it's necessary to make your champagne unique. It's not very difficult. You can order champagne gift with a logo from us and we will transform an ordinary bottle in an exclusive souvenir, which you will proudly be able to give to your customers!
Such a bottle is certainly impossible to give to anybody else. Our designers will help you to choose the form of a collar and to draft design-layout. There are many options for finishing labels. Foil stamping is often performed on labels. Labels are given the intricate shape using shape cutting, labels are issued selective UV varnish and so on. One of the difficult tasks is to find the company which is ready to produce a party of champagne with logo in short terms.
Because labeling on the bottle requires a lot of time. Our workshop for manual works will allow you to place an order which is no one wanted to take! Also there are orders on wedding bottles, where the number of pieces is only 5-10 bottles. In this case many companies involved in the manufacture of such gifts often refuse to help the newlyweds. We, on the contrary, will gladly perform small orders for weddings, anniversaries and other important events!
Prices on champagne with logo
Kind of champagne

Number of copies (PCs)

Price for the bottle with a label (including gold and silver on the label) (rubles)

Soviet champagne (Moscow champagne plant, RISP, cornet, Sparkling wine)
50

100

300

500

1000

5000

462.52

354.58

300.02

265.85

237.14

217.99

Champagne "Abrau-Durso"

50

100

500

1000

5000

700.96

607.51

515.05

482.6

449.56

Champagne "Crimskoye"

100

4999.22

Champagne "Asti Martini"

100

5760.28

The variety of champagne on your wish

On request

On request
Prices on the box
Box
Pcs.
price
Box
100

300

от 500

96.67

43.11

On request

Case
100

300

от 500

32.61

18.53

On request

Package
100

300

от 500

129.58

65.91

On request

Korczowa packaging (not including mold casting)
100

300

от 500

On request

On request

On request
On average, production time is no more than 10-14 days. On small print runs, the terms can be 5-7 days, on large - more than a month. Please, check the terms of production of your number of copies of champagne. Consumers draft design-layout by themselves (in this case download stencil of label draft) or it can be performed by our designer for extra pay (cost is announced by designer). It's also possible to make a gift box for champagne- tubes, gift boxes, bags with handles, bags with handles-ropes, or corrective packaging with handle. Boxes, cases and bags, festive and shiny, sturdy cardboard, the size of champagne, fully designed to suit your corporate identity with logos and inscriptions.