The office printing house "FS Print"

[location map]

7(495)504-60-26, 7(495)308‑36-43
7(495)221-29-36, 7(495)955-91-52
8 (800) 505-85-32

Moscow, ul.Podolskih kursantov, 3
The underground Kievskaya, Bryanskaya Street 5
Working hours:
Monday- Sunday: 8:30 - 23:00
Bars of chocolate with logo. Design of chocolate, production of chocolates with logo.
Before every exhibition we puzzle over the question: What unusual souvenirs to prepare for distribution at the stand? You can't eat your cake and have it. When there is no possibility to allocate a serious budget for the purchase o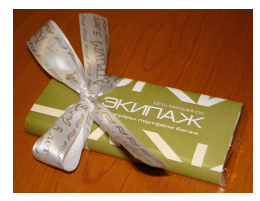 f a large range of souvenirs, it's necessary to find simple and original option. The best option in this case is branded chocolate with a logo of your company. Who will be able to indulge the pleasure to eat your souvenir walking through the vast halls of the exhibition? A large enough advertising field on the wrap of chocolates allows not only put the logo and firm contacts but also to familiarize potential customers with goods and services of your company in the abstracts. Also advertising chocolates can serve as a wonderful souvenir suitable for New Year, March 8, and other holidays. Recently, there are quite frequent orders for promotional chocolate from individuals. People order original invitations in the form of chocolate on wedding, greeting "chocolate" cards. Promotional chocolate are produced by any number of copies and in different sizes. Quality of the chocolate is always confirmed by certificates. You can rest assured that no matter how well looks wrapper, inside it, there is fresh and delicious chocolate!
Prices on chocolate with logo
Type of chocolate

The minimum circulation (pieces)

Price (rubles)

Time (days)

sample chocolate

5g square 35×35×3.5 mm milky, bitter

100

250

500

750

1000

3500

3532

5249

6867

8101

9305

26278

2-х

2-х

2-х

2-х

2-х

2-х


15g rectangular 35×60×7 mm only milky

100
250
500
750

1000

4446


5220
9703
13078

16874

2-х

2-х

2-х

2-х

2-х

20g rectangular 30х88х8mm only milky

100
250
500
750

1000

4687


8085
11467
15581

20273

2-х

2-х

2-х

2-х

2-х


AERATED CHOCOLATE

25g rectangular 40х80х13mm milk, dark, white

100

1000

4740

23649

2-х

2-х

60g rectangular 50х117х11mm milk

100

1000

7632

46632

2-х
2-х

100g rectangular 155x72x9 mm milky, bitter
100
250
500
750

1000

13224
29135
43108
62858

83421

2-х
2-х
2-х
2-х
2-х