The office printing house "FS Print"

[location map]

7(495)504-60-26, 7(495)308‑36-43
7(495)221-29-36, 7(495)955-91-52
8 (800) 505-85-32

Moscow, ul.Podolskih kursantov, 3
The underground Kievskaya, Bryanskaya Street 5
Working hours:
Monday- Sunday: 8:30 - 23:00
Chocolates with logo
Chocolates with logo are edible souvenir, which has already become traditional. We offer edible sweet souvenirs. Gift chocolate with a picture of the customer is an advertising product that works well and is used in various types of activities: at exhibitions, seminars, conferences, promotions, corporate events, holidays, events, February 14, March 8, February 23, the New Year, business gifts for men and women, gifts for companies that are used as gifts to customers, as well as private customers as gifts to loved ones.
ATTENTION! In occasion of the New Years overload of production, prices and production terms may change.
Please take care of placing your order in advance!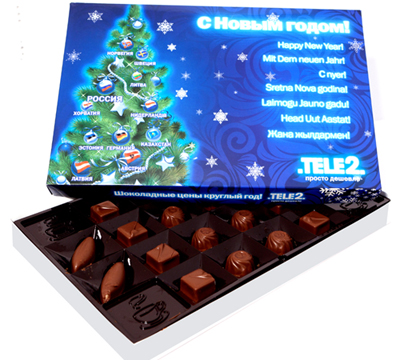 Prices on chocolates with logo.
the viev
pcs.
price
" Tretyakov gallery" 20x29.5cm 240 grams

50
636.2
100
538.62
200
384.71
300
352.06
500
328.81
1000
289.09
on request
on request

Moscow nights Size: 200 x 297 x 24 mm Weight: 200 grams Shelf life 9 months.

Ingredients: Confectionery glaze, sugar, condensed with sugar milk, confectionery fat, kernels of almond paste, molasses, whole milk powder, substitute milk fat, alcohol, emulsifier E322, natural identical flavor: "Cream with hazelnut"", ""Chocolate"", ""Caramel cream". Product description: Candy "Assorted", "Moscow Nights". Contraindicated in individual tolerance to milk protein. 100 gr. product contains: proteins-4,3 gr. fat-33,7 gr. carbohydrates-54,1 gr. Energy value: 532 kcal/100g. Store at a temperature of 21 C and a relative humidity not exceeding 75%.







50
510.16
100
421.24
200
320.85
300
271.88
500
245.08
1000
178.27
on request
on request
"Black Camellia" Size: 239 x 349 x 24 mm Weight: 375 grams Shelf life: 9 months

Candy chocolate with crushed roasted walnuts in a honey-sugar syrup and crispy balls. These candies with an unusual name always attract sweet lover and the common man. What exactly is hidden under this mysterious name? And is the stuffing tasty?

Candy Black Camellia" is one of those which taste nice to discover. Previously unexplored stuffing seems very unusual and delicious, and the pleasure from eating sweets increases many times. "Black Camellia" - the perfect gift for the New Year to original people!

50
513.34
100
438.2
200
404.92
300
392.42
500
382.65
1000
372.67
on request
on request
Chocolates "Assorted" Size: 228 x 272 x 28 mm Weight: 200 g Shelf life: 9 months

Assorted milk and dark chocolate with truffle fillings.


Candy Truffle Meats will allow you to enjoy the unique flavors of truffle fillings in a classic dark and milk chocolate. The sophistication of French truffles in combination with aromatic coffee, juicy orange and delicious tiramisu - unique truffle filling of these exquisite chocolates distinguished by its soft texture.







50
429.56
100
404.39
200
312.18
300
283.87
500
271
1000
240.21
on request
on request
"Fruit platter" Size: 239 x 349 x 24 mm Weight: 350 g Shelf life: 3 months

Chocolates: "Prunes in chocolate, Apricot in chocolate, Dates in chocolate", "Black pearl". Candy "Fruit platter" These chocolates with unusual taste, suitable even for young children from 4 years. Fragrant apricot, sensual plum, sweet, creamy cashews, gourmet almonds - all these treasures are hidden under flavored chocolate.




50
513.86
100
455.71
200
422.43
300
410.43
500
400.46
1000
390.88
on request
on request
Chocolate candy "Your Secret" Size: 289 x 383 x 29 mm Weight: 350 g Shelf life: 12 months

Ingredients: chocolate flavored coconut, hazelnut, vanilla, almond and even tastefully toffee... Candy "Your Secret" Your Secret is a classic candy in floral graphic design. The collection includes a wide range of fillings in a bitter and milk chocolate.

50
766.08
100
691.73
200
650.39
300
633.46
500
621.11
1000
610.64
on request
on request
free view
on request
on request
Examples of chocolates with logo