Christmas balls, bright and shimmering, will be a nice present to friends, acquaintances and colleagues to the New Year's celebration. Such souvenir will decorate the Christmas tree standing in the living room of your cozy home or in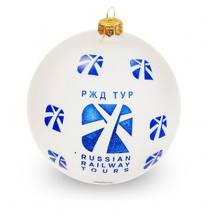 the lobby of strict office. Christmas balls can be decorated with a logo of a favorite drawing or writing. It's impossible not to notice mysterious glitter of Christmas ball, printed with symbols on your sketch. Sparkling Christmas balls with logo, elegant and colorful, will bring newness and give piquancy and charm of the New Year holiday. By type of painting Christmas balls are divided into: glossy and matt. The image printed on matte instances, is more intense. Same quality on glossy obtained at the expense of double printing, which somewhat increases the cost. When choosing a memorable picture or lettering for the logo, you need to consider the dimensions of the ball. The diameters of the standard sizes are:
• 60 mm
• 80 mm
• 100 mm
• 120 mm
Not more than a half of the diameter of the Christmas ball space should be provided for applying the selected logo.
You can apply the pattern in a single color palette or multiple colors. Christmas ball, exclusive and affordable, will become a tangible souvenir and will sparkle effectively on the Christmas tree and will please the owner.