The term "drilling" speaks for itself. Sometimes to complete a series of printing work requires tha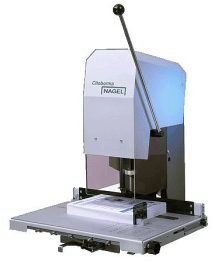 t the product had a hole. Well, if it is curly, then this hole could be carried out immediately after cutting by the same stamp, but what to do if, for example, it's just the usual rectangular tags? Is it necessary to produce a stamp for such mediocre products? Of course not, in this case drilling machines will help you. Special drills are designed for drilling holes in stacks of paper, cardboard, plastic and even leather.
These machines allow producing holes of different diameter. The scope of holes wide: this and the above-mentioned tags, and all sorts of labels, POS materials, paper bags, brochures, calendars and many other print products. In our shop for post-printing finishing established drilling machines with a full set of drill bits of all the most frequently required drills. Applying to us, you can be assured that you will receive quality work in the shortest possible time. We also provide services to third-party printers for drilling of any complexity.