The stamping process is a process of applying an image to the desired material through the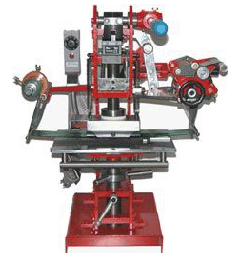 press and a special pad. Embossing is a finishing type of printing works that allows making a special style and glamour to your business cards, brochures, folders, postcards and other branded printing. In addition, the embossing is widely used for personalizing and decorating such types of souvenir production, as the diaries of leather and leather substitute, notebooks, organizers, and other things.

All kinds of stamping are divided into blind, relief and foil stamping. These types can be used individually or in combination.Blind embossing is embossing, in which by means of press and mirror fabricated metal plate is obtained "in-depth" image. This type is very common for leather and its substitutes, as it allows under high temperature to burn this material and make the image a few shades darker than the main background that looks expensive and representative.

Also in this case foil of different colors can be used even up to holographic, and then the fingerprint will be not only a relief, but all the elements will be covered by a foil. Blind embossing is often used on different papers, which also often go through the process of foil stamping.
Blind embossing with foil and on laminated surface is also possible. Foil stamping can be carried out without manufacture of metal plate, using a polymer clichés - it is less durable, but in small print runs more appropriate.

One of the most sophisticated and beautiful stamping is certainly embossing, in which the image is obtained as opposed to blind embossing is not profound, and convex. Clichés in this case consists of two parts and to manufacture it requires lots of experience and skill. The main difficulty in this type of stamping is convergence of the printed image with the embossing. Embossing can also be performed with foil. Our printing house has reached certain heights in the art of stamping - we are manufacturer of exclusive types of packaging, which often has this kind of finish.