The office printing house "FS Print"

[location map]

7(495)504-60-26, 7(495)308‑36-43
7(495)221-29-36, 7(495)955-91-52
8 (800) 505-85-32

Moscow, ul.Podolskih kursantov, 3
The underground Kievskaya, Bryanskaya Street 5
Working hours:
Monday- Sunday: 8:30 - 23:00
Envelopes. Printing and envelopes design, production of envelopes.
Envelope even if it's a small, it's very important feature of corporate identity. Because relationship of the person to the letter received from you will depend from such a little thing as envelope. They say the theater b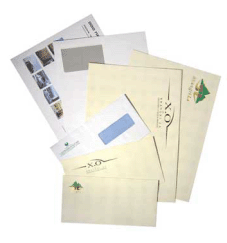 egins with a wardrobe; similarly every letter begins from the envelope. And here it's very important not to drop the prestige of the company and to encourage your recipient to take the message seriously from the first sight. Fortunately, paper industry offers wide range of different envelopes. Variety of formats and paper is impressing and this choice should be made more than seriously. Selection of the material for the envelope must be logically linked with the letterhead paper and even with the corporate business cards. Envelopes can be produced by different printing methods- from digital printing for urgent and small print runs to offset printing if required great number of copies; and silkscreen when printing is necessary for the designer cardboards with a deep texture or dark colors. It's very logically to have two or more types of branded envelopes. Strict and business, for everyday correspondence, and exclusive, for invitation cards and congratulatory letters. We gladly fulfill all of your options.
Prices on envelopes:
162х229 мм (С5)

229х324 мм (С4)

1+0
2+0
3+0
4+0
1+0
2+0
3+0
4+0

500
2899
3977
5615
6887
3694
4841
6549
7890
1000
3651
4867
7410
8682
5168
6454
9066
10267
5000
12669
13879
19523
20774
19980
21259
26973
28293
10

0

00 .
23340
24546
35292
36543
37893
39168
49984
51304
Portfolio: envelopes
- printing on envelopes of various formats and types
- print color matching according to customer's sample
- immediate digital full-color printing on envelopes
- manufacture of envelopes of paper design
- the ability to print on the flap and on the reverse side of the envelope
printing envelopes with the logo, branded envelopes and envelopes for CDS
- production layouts for print
Price in rubles per run (including the cost of the envelope). Manufacturing: 2 work. days.