Many customers confuse the concepts "flyer" with the concept «leaflet", and, indeed, often they look ve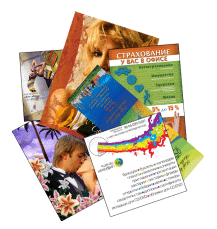 ry similar, however, the differences are quite enough. Leaflet isn't limited to the standard sizes - it can be of any size, but the flyers initially have a specific format. It is 1\3 of the A4 sheet. The only exception is unusual wishes of customers. Besides the size, the main difference carries meaning. Leaflet is a brochure that informs the customer about your products or services, but the flyer not only informs, it still allows the client to use bonus marked on it. It could be the announcement of discounts for a limited period of time or free admission to a nightclub, or a free drink to order in a restaurant.
There are great amount of options, but the main thing to understand is that the purpose of a flyer is to attract the customer to something specific, to impel he to use your services in the shortest possible time or purchase your product. On this basis, it is easy to imagine that the flyer must be evident, to be bright and have vibrant design, special emphasis should be put on the bonus, which will entice.