Flyers are one of the most widespread types of printing production. Monochrome, printed on usual offset paper or on the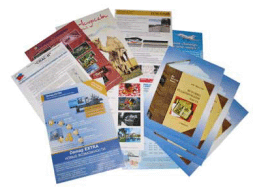 contrary, glossy, multicolour with original design, different types of printing serves different goals. It's difficult to disagree that in our difficult times the advertisement of goods and services is particularly acute. Flyer whatever it was, in a compact form, should explain to your potential customers what you offer and give an idea about price of the product. Whatever was your business small or large but it's impossible to do without such a simple advertising tool as the flyer. If you participate in exhibition it's a working material which managers will spread. If your business is small, flyers, handed out on the streets or distributed in mailboxes will allow customers to learn about you as soon as possible.
Equipment of our printing house is so diverse that we can easily produce leaflets of any complexity and any number from 1 thing to a million copies. If you don't know which type of flyers to choose – simple, printed on risograph or small number of copies of the full color flyers on the digital machine, or maybe thousand offset run. We will be happy to understand your needs and offer you an appropriate option based on your needs. Also we will help you to solve the problem of design flyers, change your layout or offer our option for reasonable price. In any case, speaking to us in order to print flyers you will receive a full range of services!