Folding is finishing process, which consists in folding the finished printed products on a certain line. W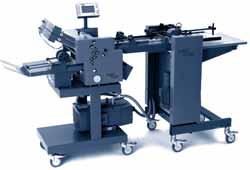 hen folding, the product is not applied pre-bend lines, and the process is done by rolling the folded product between the rollers and folding machines. As a rule, in small print shops and municipality there is no folding machines there, and the staff manually bend the printed products that can be very difficult in the case if the product of multiple bend lines, so-called folds. When using the equipment of our printing house it's possible to perform folding with several folds, folding like an accordion, the transverse folding and other types of work.
The process of folding feasible on paper, the density of up to 150 g / m, inclusive, if you use a folding machine on the papers of higher density, it is quite possible such defects of paper, as breaking the fold of paper, paint loss and other blemishes. In order to avoid this adjacent to the folding process – scoring is applied. Creasing machine gets in a groove, which makes a visible indentation in the material and thereby stretching the paper fibers in a particular place allows for the later easily produce the folding process. Completely flat fold line on such products as cards, invitations etc are the result of a process of pre-creasing. In the manufacture of packaging creasing lines are applied simultaneously with logging using the stamp.