Forms are divided into two basic categories – letterheads and utility forms (order forms, forms to be filled etc.) Let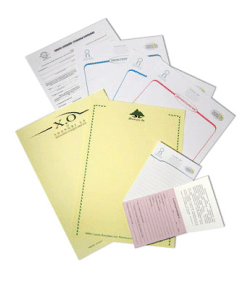 terheads it's the face of your company as well as other components of corporate identity, as a rule, it's made in the same style as business cards, brochures and other printing materials. The presence of the company logo and address is a mandatory requirement for letterheads. Usually it's printed on designer paper picking up the paper to match the envelopes. You can't use digital printing method to print letterheads on which you intend to print letters on laser printer. In this case offset printing is strongly recommended.
Stylish letterhead it's rigorous, thoughtful design and no extra details. Nothing should distract from the reading of the letter. Order forms, application forms, filling forms and etc, it's quite another thing. Risograph printing method will be quite well for it and offset paper will be more than suitable. Self-copying forms can be singled out. It's often used by pizza delivery, tailoring, dry cleaning and other organizations. Because they need their customer and performer to keep the same document. Self-copying forms can be multi-layered, different in format, color, glued or not glued together.