Perfect seamless bond of pages - the main type of binding the pages in the production of such typ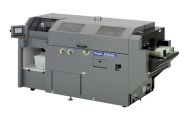 es of printing products such as: paperback, brochures, magazines, notebooks, catalogs, and others. In this way, the spine of the product is attached to the cover using special heated glue. This type of fastening definitely wins on price and production time compared to the complex process of sewing thread block. However, we must not forget that in this method of fastening the cover with the unit it is impossible to achieve the same product life. The process of the KBS is done on special machines by trained personnel, only this symbiosis will make it possible to manufacture products efficiently, despite the apparent simplicity of operation.
The process is as follows - on vibrotactile block printed products are aligned to the edges, then in a preheated machine it's inserted and the block and torchered cutter for better bonding with glue, then prepared and served shovana cover and gluing unit with the cover, then applied the so-called counter big, for the best opening of a book or magazine. Many printing neglect the milling block, and this adversely affects the quality of the gluing - after a short time after final drying glue such products can fall apart. Our printing house has the most modern equipment, which virtually eliminates manual labor, all machines are equipped with torcherous and counter big, which makes the result of our work quality.