Large format printing. What is large format printing becomes partially clear from the title. It's printing on large format. Where the large format printing is used and on which equipment it's performed. Full color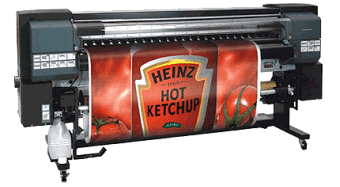 large format printing refers to digital methods of printing images. That means that the printing is performed directly from the computer file to the media. Since these printers are large - reach 5 meters in length, and the material on which the printing is performed - roll. Printing itself - fluid itself, and is divided by type of ink into solvent ink, water and pigment.
Solvent ink allows using banners, placards and posters as outdoor advertising. Since solvent-based ink is water-proof and doesn't fade in the sun. All large banners, billboards along the roads, and huge posters on houses all it's the products of large-format solvent printing. Unfortunately, resolution of print is lost when printing with solvent inks. Maximum resolution of such print is 720 dots per inch, which doesn't allow using such products in the design of interiors, especially because solvent-based paint has quite strong smell and can cause headache. Interior printing with pigment and water inks is used for interior design. It allows producing photo-quality. Such placards and posters are widely used by designers in the design of interiors of offices, shops, exhibition stands - both static and mobile. These printers give permission to 2800 dots per inch, which is comparable with chemical etching of photography, and the number of mixed colors during printing gives you the opportunity to gain up to 98% Pantone colors. For outdoor advertising, it is important to have in addition to printing machines also special equipment for further processing. Machines for setting eyelets - special metal rings through which the product will be attached to the surface, and weld fixtures, when images must be securely "glue" between. Our company is glad to provide wide-format printing shop, which presents a complete set of equipment to produce the whole range of products - from street banners to interior posters.
We provide large format printing on the banner self-adhesive film, paper and on other modern materials. Wide choice of large format printing allows realizing any ideas in different areas of business. Large format printing is widely used in advertising business. Banners, billboards, light boxes, banners is just a small list of designs that are made for large format printing. Section: Large format printing. Urgent large-format printing. Prices for large format printing.