The office printing house "FS Print"

[location map]

7(495)504-60-26, 7(495)308‑36-43
7(495)221-29-36, 7(495)955-91-52
8 (800) 505-85-32

Moscow, ul.Podolskih kursantov, 3
The underground Kievskaya, Bryanskaya Street 5
Working hours:
Monday- Sunday: 8:30 - 23:00
Notepads. Printing and notepads design, production of notepads.
Notebooks are souvenir printing products. It's perfect motivational handouts for exhibitions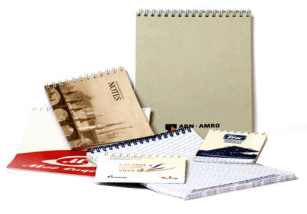 and perfect present for your customer. The variety of methods of notebooks production allows you to choose suitable option for your needs. Notepads vary in format, number of pages and method of binding the pages. The easiest method of manufacturing these products – the notepad on a spring, the spring may be either metal or plastic. Such kind of production of notepads allows getting an order in short-terms. Notepads with adhesive binding of the pages are also very popular. For additional personalization of your notepads aside from full cover, our printing house also prints logo and address of the company on the pages of the block. It gives additional advantages because notepad presented to your potential customer will remind him about your company by its pages on which he will write. There are various types of printing used during production of notepads: from digital printing to silkscreen and foil stamping on the cover. All depends on your need to receive simple variant or exclusive notepad. Recently, tear-off notepad on the magnet gained a lot of popularity. Such souvenir won't be thrown or laid off. Your customer will bring it home and will use it, remembering about your goods and services.
Notepads. The price for number of copies.
cover 250 g/m2 cardboard, 4+0; block 50 sheets, 2+0, 1+0, or without printing, paper 80 g/m2 offset; substrate without printing, cardboard 250 g/m2 bond on a spring.
Format

:

А4

А5

2+0
1+0
Unit without printing
2+0
1+0
Unit without printing

100 pcs.
15407
11300
7881
12037
9105
7441
300 pcs.
29454
21608
15330
20702
15751
12787
500 pcs.
42699
31760
22881
28871
22214
18131
1 000 pcs.
75372
56734
41582
47852
37688
31523
3 000 pcs.
198712
150961
111200
122319
98410
83616
5 000 pcs.
318415
242822
178919
193513
156467
132944
10 000 pcs.
609759
470133
348240
370226
301327
256825
Format:

А6

А7

2+0
1+0
Unit without printing
2+0
1+0
Unit without printing

100 pcs.
10913
8145
6878
10407
7359
6543
300 pcs.
16135
12599
10583
13778
10754
9432
500 pcs.
21255
17169
14019
17335
14247
12081
1 000 pcs.
33543
27546
23517
26241
22155
18812
3 000 pcs.
81985
68120
59814
61169
52412
47283
5 000 pcs.
129639
109117
96534
95616
83733
76107
10 000 pcs.
241125
208304
184755
180993
160244
147232