The office printing house "FS Print"

[location map]

7(495)504-60-26, 7(495)308‑36-43
7(495)221-29-36, 7(495)955-91-52
8 (800) 505-85-32

Moscow, ul.Podolskih kursantov, 3
The underground Kievskaya, Bryanskaya Street 5
Working hours:
Monday- Sunday: 8:30 - 23:00
The numbering. Prices on the numbering..
Autonomous rotary numerator of high-capacity with intelligent friction feed of the sheet. Co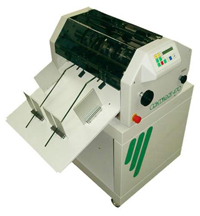 ntact of numbering heads with paper occurs on polyurethane cushion of high wear resistance, which gives a clear impression. A unique system for the alignment of the sheet with the front stops provides high precision printing. There are two options of colorful system - impregnated with glycolic paint rollers (470A) or roll with a colorful group for offset inks (470В). Machine numbers, perforate, baguette, cut or makes incision in the longitudinal direction, making it all in one pass. Knives for perforation and creasing on the universal blocks with micro regulator. The system of friction feed with adjustable pressure feed rollers and opto-electronic control double sheet, jams and submit the paper allows you to use both single sheets and sets of self-copying paper (5 sheets). Wear-resistant of paper feed rollers from dirt repellent rubber.
Prices on numbering
Fitting: 500 rubles in one place on the face, 200 rubles for each location on the sheet cost: 50 kopeks per sheet, min format 110х185, max. format 465х420, minimum 4 symbols, maximum 7 symbols.