Perforation – it's one of the types of printing and finishing works, which consists in applying holes located on any particular line to provide ease of rupture at the site of application of perforation. Perforation is carried out using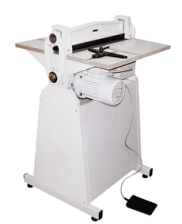 the so-called perforating blades. Perforation is used most often in the following printed materials: notebooks, tear-off calendars, invitations, notebooks on the spring, and others, wherever you need to carefully tear off part of the product. Also, perforation used in blocks of diaries, where it is applied to the area of the page to search for a specific date.
In addition to the tear-off line, perforation often performs the function of replacing creasing and folding. A number of small holes for easy bending are applied for example on the CD covers. The shape of the perforation holes varies on brand - when holes are round and line shapes. In this case, the holes resemble small lines. Sometimes perforation plays an indispensable role in the production of various types of lottery games with the humps. Because it's not easy to tear off the piece of paper without perforated caused. There are also office options perforating equipment, which are familiar to many people. It's binding machines, which first, punch the holes and then put a stack of punched paper on a plastic or metal spring. We have automatic and semi-automatic machines, which allow producing a large number of products with this kind of finish. We also provide services on the perforation to other printing houses.