The office printing house "FS Print"

[location map]

7(495)504-60-26, 7(495)308‑36-43
7(495)221-29-36, 7(495)955-91-52
8 (800) 505-85-32

Moscow, ul.Podolskih kursantov, 3
The underground Kievskaya, Bryanskaya Street 5
Working hours:
Monday- Sunday: 8:30 - 23:00
Plotter cutting. Prices for plotter cutting.
Plotter cutting is the process of cutting out images from special films on special machines, plotters, or as it's called - the cutters. The scope of such applications is quite wide. Clipped image knurled on the surface is the ba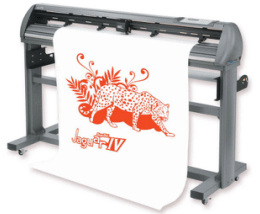 sis for the manufacture of such types of outdoor advertising like street banners, signage, and others. Shop windows, vehicles, and trading kiosks are decorated by appliqué. Currently, the industry produces a wide range of colors self-adhesive films, which allows showing imagination and getting durable multi-colored image.
The process of making the application consists of the following stages:
1) Cutting of the material is performed. Operator sends a vector image of each detail on the computer.
2) For the qualitative application on the surface, excess, not involved in the pattern part of the film removed from the surface.
3) "Selected" part of a pattern transferred to a special "clipping" film which will make it easy to move the entire drawing where you have planned. It's difficult to mount complex multi-color image without a certain skill. That's why we recommend you to save money on such a service like mount of application. Otherwise you risk spoiling the whole work. Our company is equipped by industrial plotters which allow cutting out the most complex patterns. And shop for manual works produces quality installation of ready applications. We also provide onsite installation at your place.
Requirements for the layout:
The layout should be provided in vector format (cdr): CorelDraw (9-13).
Scale Layout - 1: 1.
All fonts must be converted to "curves" (Sonvert Tau Surves).
In the sketch should not be unclosed and intersecting contours, all lines must have the smallest thickness (Hairline).
The minimum size of the layout - 5 mm (for different types of film, the minimum height of the letters can be changed).
Minimum thickness of lines in the layout - 1.5 mm.
When replicating identical labels on a sheet of film, the gap between the labels must not be less than 3 mm.
Files should assemble for vinyl cutting, considering: the size of the material being cut the width of the field, allowances for roller holders (15 mm on each side, 50 mm top and bottom).
Maximum cutting width - 1260 mm.
Files may be provided on data carriers of the following types: CD, USB-Flash.
Delivery time
:
From 15 minutes to
24
hours, depending
on the complexity of
the object.
Sharp image, without material (film) in the rub. / M²:
Type of film

Character height

0.5-1 см
1-3 см
1-5 см
5-15 см
15-50 см
50 см
ORACAL: 641, 551, 951, 451
800
600
400
250
200
150
ORACAL: 8300, 8100, 8500, 8510, 8810
800
600
450
300
250
150
ASLAN: CT 116, SF, E, EL
ORAMASK: 810, 813
POLI-FLEX: все серии
ORACAL: 6510, 7510, 352, 383, 9100, 970
1000
800
500
400
300
200
ASLAN: СА 23, СА 24
R TAPE PLUS: Diffracto-Lite, Multi-Lens, TMP
POLI-FLOCK
ORALITE: 5300, 5400, 5500, 5600
ORAMASK: 831
1200
1000
600
400
300
200
The minimum cost cutting - 300 rubles.