Risography is a special kind of cheap and urgent printing which is performed on a special printing machine - risograph, or as it is called - duplicator. This type of printing refers to digital printing, as it does not require the m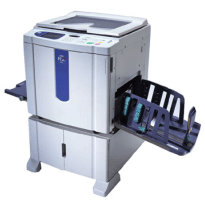 anufacture of special printed forms, and the print goes directly from the computer. The machine itself, having received and processed your file will make the burn of special master tapes and starts printing. There is also the possibility of reproduction, using direct hard copy. For this purpose, product is placed in the scanner, and then multiplies. Modern duplicator can achieve very good print quality up to 600 dpi and it's a good substitute for the one-color offset printing. There is variety of materials for printing - these can be paper in different colors and textures weights up to 220 g / m, the only exception is for glossy paper, due to its chemical composition risograph ink doesn't dry on it. It is also possible to print on envelopes and special self-adhesive paper.
The use of additional shafts in risograph allows printing of almost all simple colors. For this purpose, main text is printed, and then the same text is driven at the machine through another shaft, filled with the perfect color of first text. All this allows making the simplest promotional products (price lists, leaflets, booklets, brochures, catalogs, stickers, envelopes) more presentable. The availability of a wide range of finishing equipment makes it possible to put the printed paper on the spring, fasten with a clip with the denser cover, perform perfect seamless bond. We have duplicator among our equipment which prints at speed up to 135 pages per minute, up to A3. So the circulation, for example 1,000 leaflets in A4 you will receive in a 5 minutes! The price for this printing will please you so much that you will no longer need to save on promotional materials. Printing on risograph is the best budget choice..